Karate is an exceptional way to hone your mind and your body. Whether you want to help your child find a hobby that urges them develop confidence or you're interested in taking self defense classes in Huntington, UT, Dow's Karate & Fitness welcomes you!
Our dojo is open and welcoming to all.
Tang Soo Do Instruction
At Dow's Karate & Fitness, we focus on Tang Soo Do style. This karate modality is authentic, incorporating elements of both Chinese and Korean martial arts.
With a 3rd Degree Black Belt, dojo owner Larry Dow Jr. takes immense pride in instructing pupils in the Tang Soo Do code of loyalty, brotherhood, respect and honor. In addition to teaching everything from stances to sparring movements, students also learn Korean as they train, acknowledging the roots of the style they're practicing.
Our goal is to help students become proficient in martial arts, as well as develop confidence in themselves. Whether you're learning for the purpose of self defense or are interested in moving up in belt ranks for a sense of achievement and accomplishment, we're ready to educate you in the Tang Soo Do style.
Learn Karate at Any Age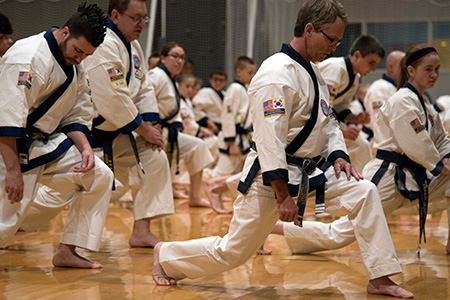 You're never too old to benefit from the discipline and control that karate teaches. In fact, you can never start too early, either! Dow's Karate & Fitness welcomes pupils of all ages, teaching at a pace that's easy for anyone to adapt to. We promise you'll feel at home and included at all times!
Family Lessons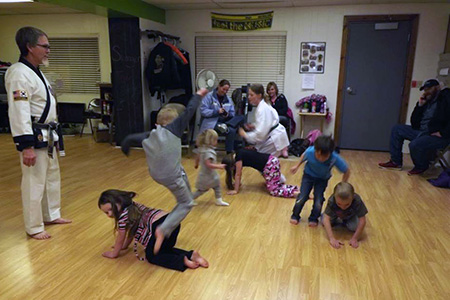 Karate lessons in Huntington, UT are a perfect family bonding opportunity and offer the benefit of spending time together doing something productive and fun. We actually find that many children learn better when they're accompanied by a family member—they're more confident and open, which allows them to learn better. We encourage family lessons and welcome children, parents, brothers and sisters.
Gear for Sale
Karate is a discipline, which means it can and should be practiced often and integrated into your everyday life. We sell equipment such as uniforms and training accessories to students, so they're able to continue practicing outside of their class schedule. We make it easy to train on your own time, so you can progress proficiently through lessons with confidence.
To learn more about our classes or to inquire about the Tang Soo Do style, please visit our dojo today or call 435-609-3901.